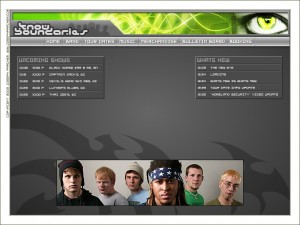 The band and the website are no longer, but this was a very fun project and I wanted to show it. I was approached by a friend of mine that wanted a website for his band (he's the guy in the green shirt). At the time, I was a Web Design Consultant and giving away my services on the side was frowned upon. We worked out a deal with my employer where we gave a little money to them and then I could make them a awesome website on the side.
I had already been dabbling in content management systems (CMS), which were revolutionizing the web world at the time (keep in mind, this was in 2002). So, I knew I was going to have a database drive the content. I had never done it before, so I decided the entire site would be in Macromedia Flash (Adobe hadn't bought them yet).
This meant learning Flash ActionScript and the methods required to read from the database and get it into the Flash file. I also created a sliding style of moving from page to page. The image above will take you to a version of the page so you can see how the animation works (there is no data for it to read though). And, of course, the design was all mine. Working on band graphics really opens the door to some creative artwork.